Silver grey granite setts

These are our beautiful granite setts with silver grey colouring and a split finish. They are a quarried stone used as a hard wearing decorative stone paving in landscape architecture. Granite setts can be used for paving, path edging or for quoins. A sett is distinct from a cobblestone by being quarried or shaped to a regular form, whereas a cobblestone is generally naturally occurring.
Product Description
Details
If you plan to use these granite setts for a driveway we recommend using the 100mm thick setts. Unless a reinforced sub-base is used 50mm setts are only suitable for light pedestrian use. *The minimum order to qualify for free delivery is 45 setts.
Dimensions are nominal and are measured in millimetres.
If you would like to request a sample please click the picture below: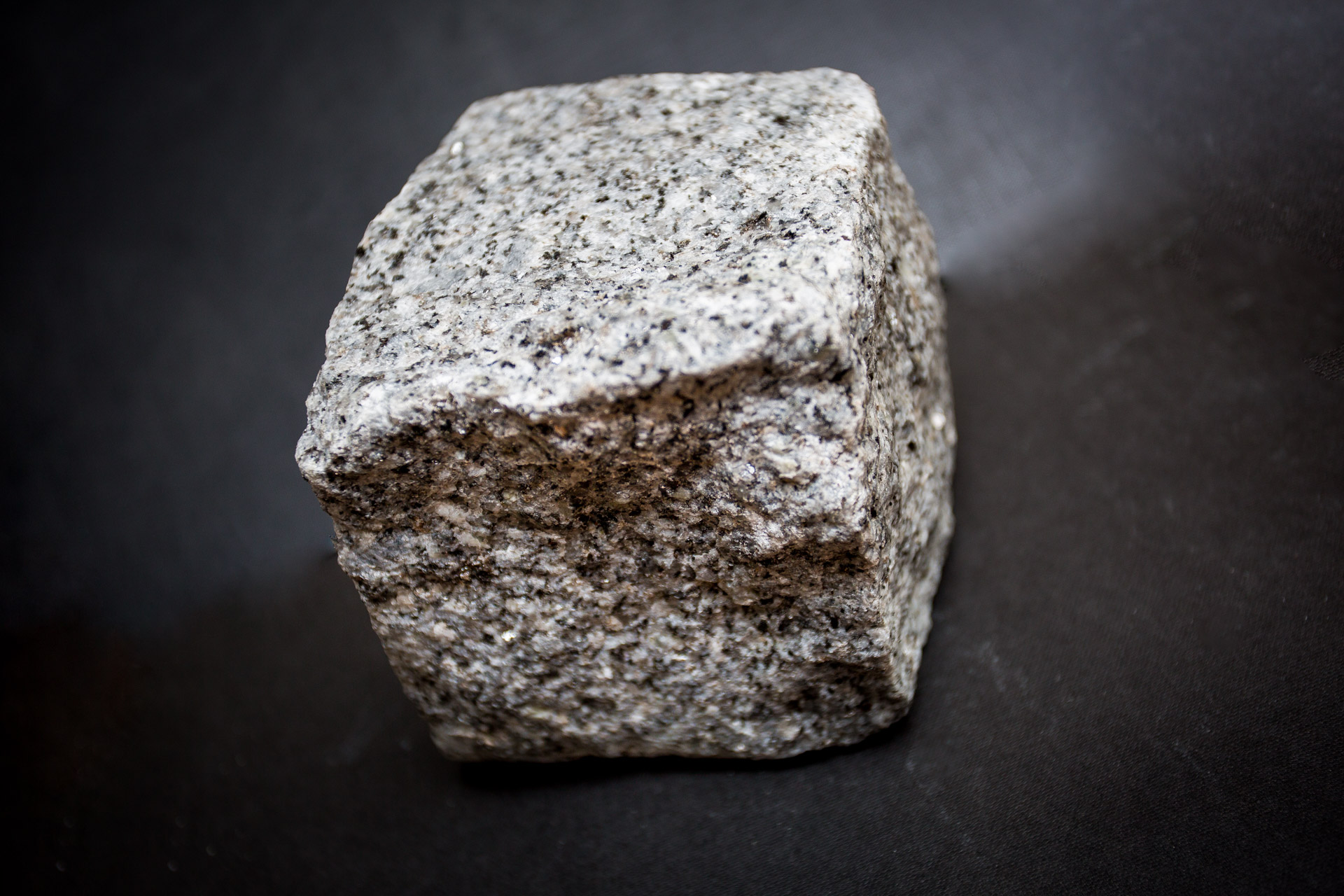 These granite setts are an excellent choice of attractive, hard wearing paving

Dimensions
Nominal dimensions of each granite sett are in mm. Because the setts are split along the natural cleavage lines in the granite there can be some irregularity in the dimensions, which is to be expected. We generally advise dimensions for these granite setts to be +/- 15% in any dimension but some setts may be outside of this tolerance. If precise dimensions are required then a sawn sett must be purchased.
Finish
These granite setts have a split finish to all sides.
Availability
We usually have these granite setts available for delivery from stock.
Delivery:
Delivery can be arranged throughout the UK. If the material is in stock it will normally be delivered within 3 working days of your order.
*Our website price includes standard delivery to most of the UK.
The standard delivery method is using a lorry to delivery the paving in a wooden crate. The lorry will be equipped with a "tail lift" to offload the crate to the kerbside. The lift lowers the crate to the ground and then the driver will use a hand pumped "pallet truck" to move the crate off of the tail lift platform to leave it at the kerb side.
The lorry will not be able to offload if your delivery is required to a location that is:
Not level - The driver is not able to unload a crate if there is a slope.

Not surfaced with tarmac or concrete. The wheels of a pallet truck are small and can only be used on a completely hard surface. Gravel and unpaved or uneven surfaced are not suitable for standard delivery.

Considered inaccessible or unsafe to offload by the driver.

Prohibited from unloading or waiting.
If any of these factors apply please do not order online but contact us for further advice.
Other delivery methods (including a crane offload) are available at additional cost.
The following postcodes are not included as standard delivery:
AB10-16, AB21-25,AB30-39, AB41-56, GY, HS, IM, IV, JE, KW, PA, PH, PO31-34, TR21, ZE
If you require a special delivery method or require delivery to one of the postcodes listed above please do not order online, but contact us for a quotation.
Advice
If you require assistance at any stage, for example in choosing the right product to working or out delivery options, our helpful and knowledgeable staff will be pleased to help you.
Source
This product is sourced from a quarry in Portugal