Granite walls

Desirable
Lantoom sources its granite from it's quarry on Caradon, Cornwall. The granite is then sorted or cropped to the required size, which makes it a desirable product for building with. The silver and brown colours found in the granite blend together to create a stylish natural look. Below is a selection of projects which incorporated our granite. It can also be sawn at the back to achieve 100mm bed depths when required, this cut stone is a great option for those looking to keep to a strict bed depth. The Cornish granite is a good match for Devon granite.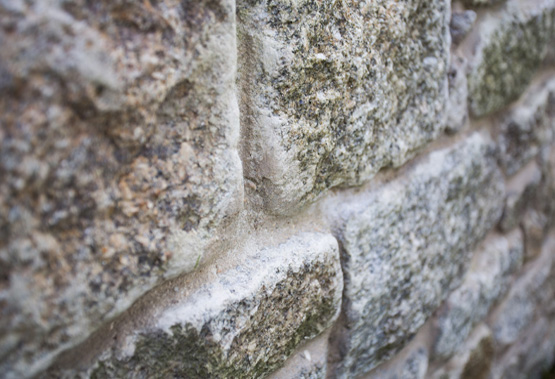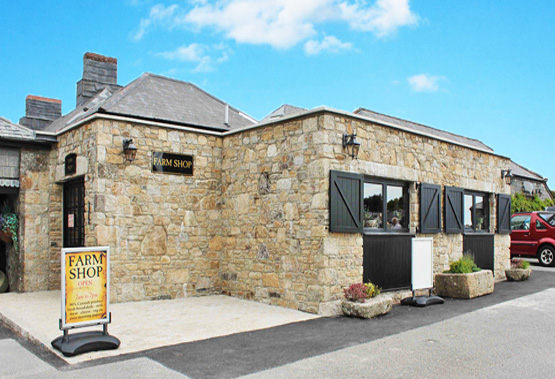 In keeping
The iconic Jamaica Inn incorporated Lantoom granite into its new kitchen extension. The style of the stone had to mimic that of the rest of the building which was achieved by using cropped granite and selected granite. The end result is remarkable and ties in nicely with the rest of the historic building.
Solid
A significant issue with building a granite wall on a house is achieving a random rubble look, while maintaining a thin thickness of wall. Construction of a traditional granite wall in a house would not have a cavity and the wall would be solid. This does however lead to thick walls. The reduced thickness of granite stone walls means the building has high thermal mass and consequently its temperature stays warm in winter and cool in summer. The architecture in this building utilizes thick granite to help offset the large amount of glass which would otherwise result in a widely fluctuating temperature.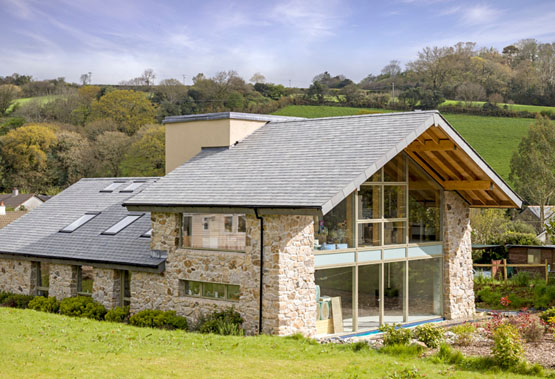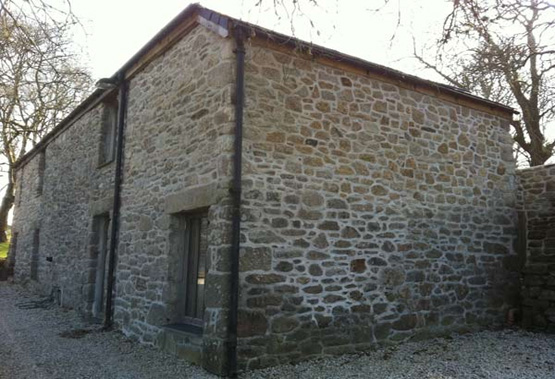 Traditional
This project has very traditional granite walls. In this case hammered granite was built with a random rubble wall style. We selected the granite in order to meet a 150mm width of granite facing. The client used lime mortar to re-point the new extension and the result is that the stonework blends exceptionally well with the original property.
Functional
You can see the granite sea wall at Seaton in Cornwall. Here, hammered granite was used to build a cement bound masonry wall.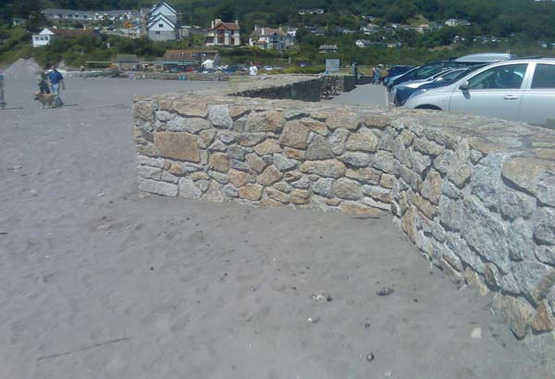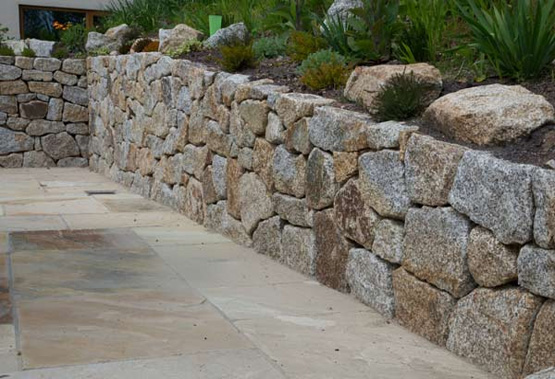 Natural
This granite dry stone wall is built within Dartmoor National Park. It uses our hammered granite. We also supplied some boulders to use as rockery stones which you can see above the wall. The random sizes of the granite makes for a natural feel to the granite wall.
Stylish
The granite comes from our Caradon quarry, it is then taken to Lantoom and broken down to hammered granite. Hammered granite comes in randomly broken lumps of granite approximately 100-450mm in size. We can for extra cost select this to a finer grading - for example, if your wall was 150mm wide we could select to that dimension.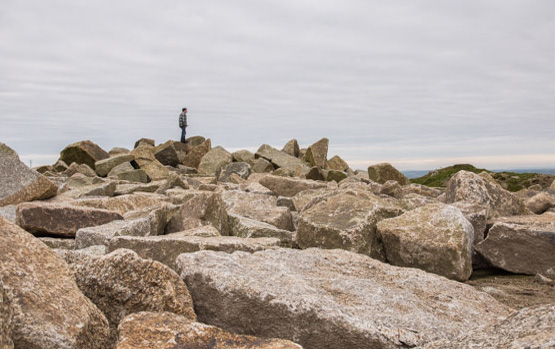 Beautiful
Cropped granite can be used in a wall where either a more roughly squared finish is required or where wall thickness is an issue. We split (crop) the stone to either 100-150mm or 100-200mm width. This also makes the stones more square in shape.
Innovative
This innovative shower was built from hammered granite it is featured at Center Parcs Longleat in Wiltshire.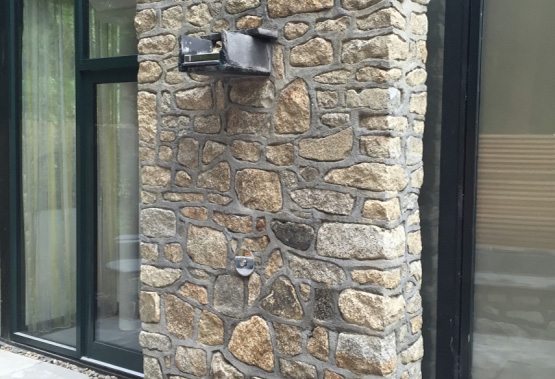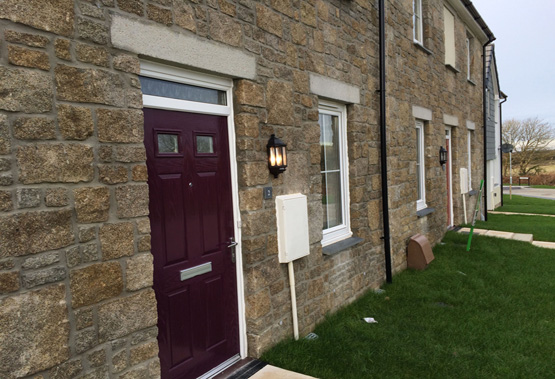 So many options
This is a project by Kier in Enys Road, it incorporates Portuguese brown granite walling stone. This is a great product for buildings with 100mm bed depths.
Stunning
Much like the job at Enys Road, this job at College Farm incorporated 100mm Portuguese granite into the project. This instead used the silver granite colour.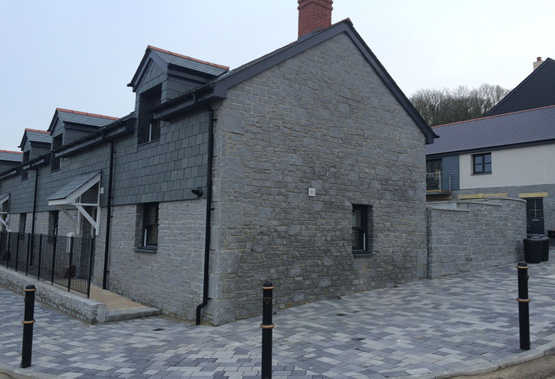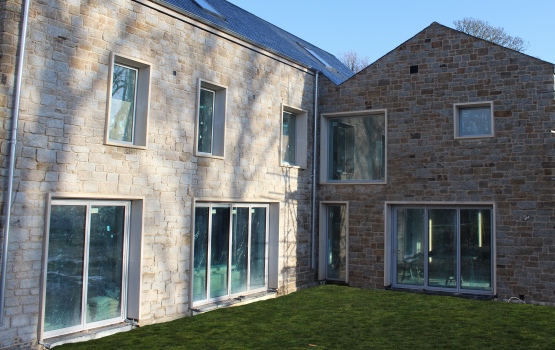 Amazing
This amazing house in Falmouth was built using cropped granite, the stonemasons have done a cracking job on the stonework. What a beautiful looking building.