Lostwithiel stone
Lantoom Cornish Stone is a popular choice in the town of Lostwithiel, which was once the capital town of Cornwall.
Brunel Quays is a site adjacent to Lostwithiel Railway Station, it is a conversion of buildings in a former railway yard.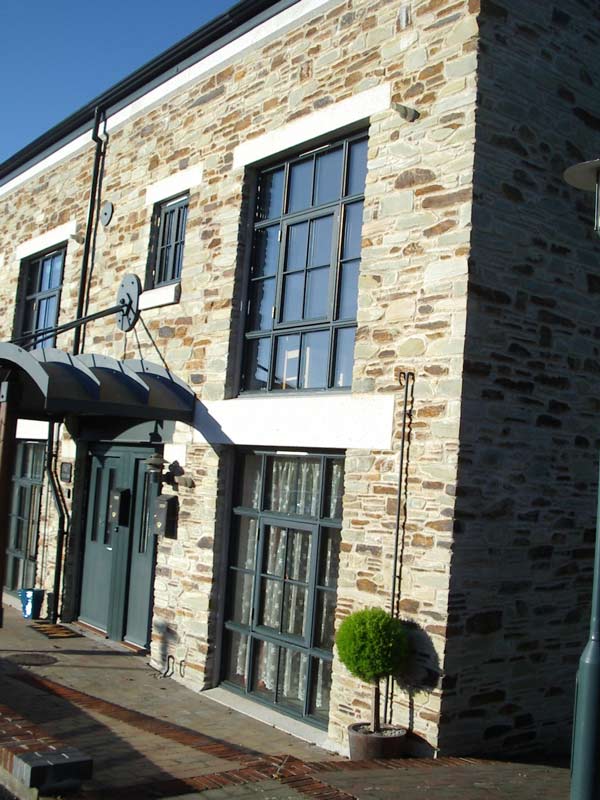 The stunning new build incorporates a mix of natural face sawn stone and blue-grey face sawn stone as well as some fine picked granite lintels. The combination of the two stones create an inviting look to the building.
The Old Duchy Palace
The Old Duchy Palace is one of the most ancient buildings in Cornwall. It was built in 1292.
The restoration contractors (Carrek Ltd) asked Lantoom Quarry to provide natural faced stone for restoration of the building's parapets.
Only a small part of the stonework needed to be replaced, which is a credit to the durability of Cornish stone.
Click here to go to a picture of Lantoom stone used in the restoration and here to their website project page.
In this case a typical challenge was the requirement to match the existing stone as closely as possible. As is the case in many projects involving older buildings, environmental factors have affected the original stonework. The most noticeable factor was that the brown/red/bronze colours of the original stone face had been eroded by weather and biological action over centuries. The Lantoom stone used for replacement will weather over the next hundred years and will eventually match the original stonework perfectly.
The project was commissioned by the Princes Regeneration Trust