Geology of Lantoom Quarry & Caradon Granite Quarry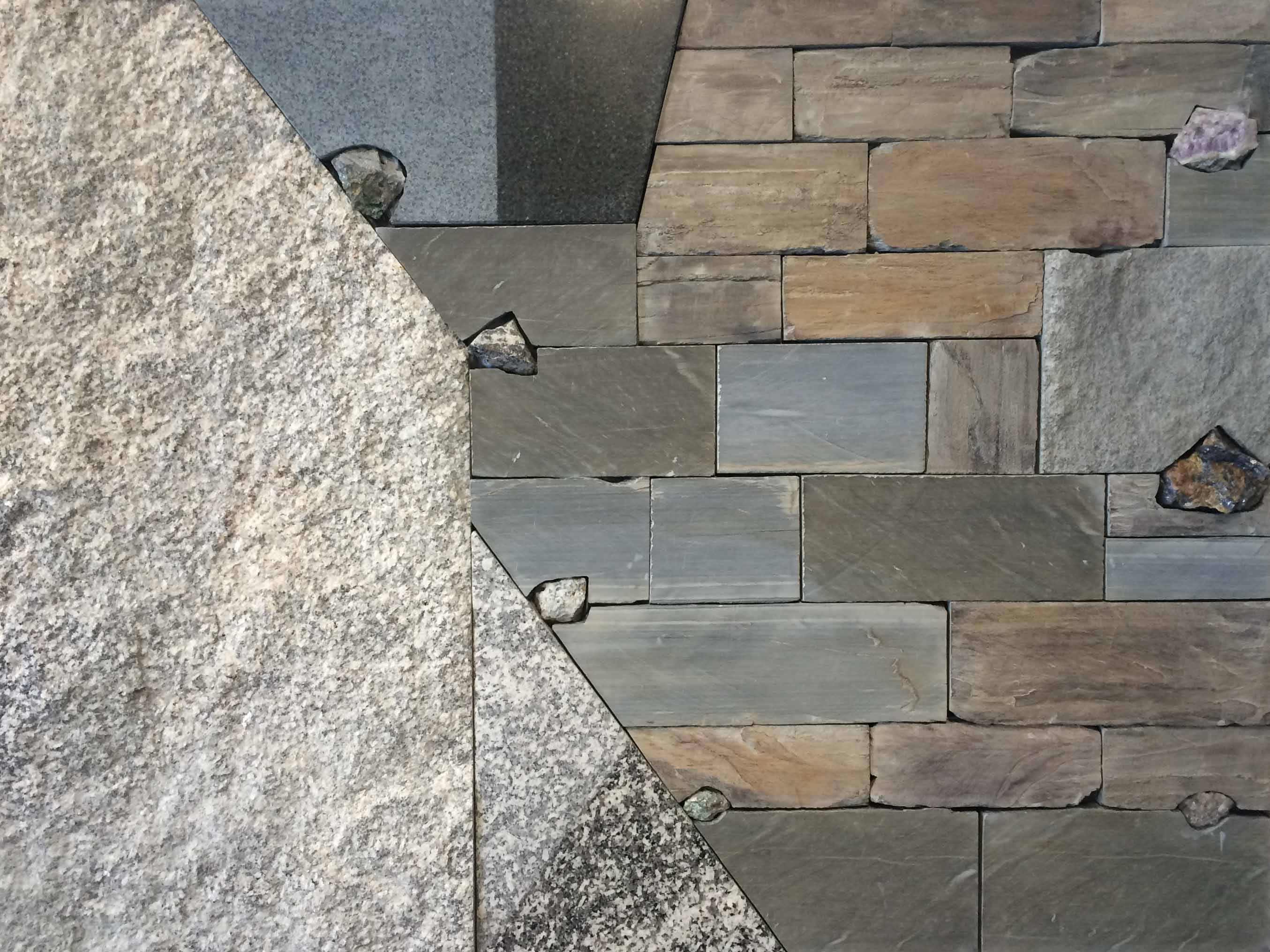 The geology of Cornwall is a complex mix of 400 million year old sedimentary and metamorphic rocks and much younger granite intrusions.
The image above shows a section through Cornwall from showing the granite on the left (north) and slate and other minerals to the right (south), Caradon Quarry is located in the granite zone and lantoom quarry is located in the slate zone. The image was taken of a model which has been built for Liskeard Museum and is on public display. The stone of the right of the model is actually made from Lantoom Quarry stone and the stone on the left is from granite taken from very close to Caradon Quarry.
Lantoom Quarry (Slate)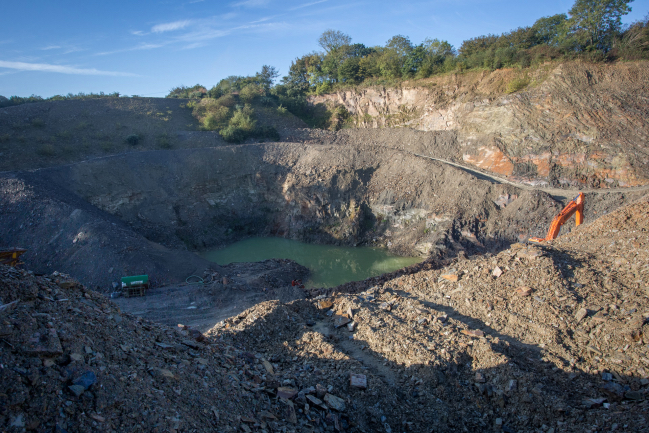 The British Geological Survey (BGS) 1:50,000 scale map shows Lantoom Quarry as being located within the Saltash Formation. The Lithological description of the Saltash Formation is "Dark grey and grey silty mudstone with variable but very subordinate amounts of laminae and thin beds of siltstone and sandstone." The BGS map description therefore suggests that the geology of the entire area is a mudstone. Because of this Lantoom Quarry stone is sometimes mis-described as a mudstone.
The description of Lantoom Quarry as Saltash Formation is also claimed in the Building Stone Atlas of Cornwall and Isles of Scilly published in August 2011 by English Heritage. In this, Lantoom Quarry is described under the sub-title "Carnglaze Slate" as "a mixed rusty and silver-grey coloured slate from the Saltash Formation".
Therefore, the BGS and English Heritage are in agreement in claiming Lantoom Quarry stone is within the Saltash Formation but conflict in describing the Saltash Formation as a mudstone and a slate.
The BGS Directory of Mines and Quarries for 2014 lists Lantoom as a slate quarry.
Slate, mudstone, shale and clay are all types of very fine grained metamorphic and sedimentary rocks.
People have variously described Lantoom Quarry stone as either a slate, mudstone, shale or killas and it is common practice for it to be given any of these descriptions when specifying the stone for use in building projects. As the Saltash Formation is of Devonian geological age it is also sometimes described as Devonian mudstone, Devonian slate, Devonian shale or just Devon stone. Because the quarry is located in Cornwall it has also been described as Cornish stone, Cornish shale, Cornish mudstone and Cornish slate or killas.
The picture above shows Lantoom stone when split into thin flakes with a bolster.
The characteristics of slate, shale and mudstone are described in the BGS Report: "Definition and characteristics of very fine grained sedimentary rocks: Clay, mudstone, shale and slate" (2003)
Lantoom Stone is sufficiently metamorphised to be slate. While it cannot be split into thin sheets for roofing tiles it otherwise displays slatey characteristics.
The Cornish word "Killas" is also sometimes used to describe Lantoom stone. Killas is an old mining word used to describe the stone around the mineral load that has been metamorphised by the heat of the mineral intrusions. Killas was considered a waste material from the mines, but it was commonly used in the construction of homes and other buildings in mining areas. Within Lantoom Quarry there are zones of mineral intrusion which can be seen in the quarry as tentacles of quartz. The high temperatures which existed when this geological intrusion took place caused part of the transformation of Lantoom stone into slate and made it stronger than rock where there was no mineral intrusion.
When built correctly on its bed, Lantoom Stone has much higher compressive strength than a concrete block. Along with its attractive aesthetic qualities this makes it an ideal material for use in stone facing and cladding or the construction of walls and hedges and landscaping. When split and laid in the ground it can also be used for paving.
However, due to its property of splitting into flakes which are not cubical in shape and its low tensile strength, it is not suitable for use as an "aggregate" in the manufacture of concrete or bituminous macadam (tarmac). It is also limited in the range of applications that it can be used and an unbound material. "Aggregate" produced by the quarry has very low value and is only created exclusively as a by-product of building stone production.
Lantoom stone is believed to be 395 million years old.
The age of the Saltash Formation is between the Emsian Period (A sub-category of the Devonian Period) and Tournasian Period (A sub category of the Carboniferous Period) with an age between 407-345 million years old.
A characterisation of the geology has been described in a paper published in the Journal of the Geological Society by CJ Burton and PWG Tanner in 1986.
The paper is titled "The stratigraphy and structure of the Devonian rocks around Liskeard, east Cornwall, with regional implications". It investigated the rock formations in the area in much greater detail than the BGS 1:50,000 scale map.
Burton & Tanner identified the Tempellow Slate Formation and its northern unit being west of Moorswater near Liskeard. This is the location of Lantoom Quarry and therefore the most accurate lithological description of Lantoom Quarry stone is of the Tempellow Slate Formation. This is described as a shiny grey slate. The age of the Tempellow Formation has been more accurately dated by Burton & Tanner as being Effellian Age. This is sub-category of the Middle Devonian Period which dates Lantoom Quarry Stone between 392-397 million years old.
Lantoom stone can either by multicoloured (brown/red colours) or grey. This is explained by its geological history:
After the formation of the stone, folding and movement of the rock lead to fractures within it. Over millennia water draining through these fractures has deposited a cocktail of minerals on the crack faces. This has resulted in the stone colour on these natural faces being changed from grey to a varying blend of natural brown, bronze, redish and black colours. These colours are what you see in our "rustic faced" or "natural faced" stone products. The original grey colour is revealed when we saw blocks of stone to reveal the interior. The sawn grey colour is what you see in our "blue-grey" products.
Caradon Quarry (Granite)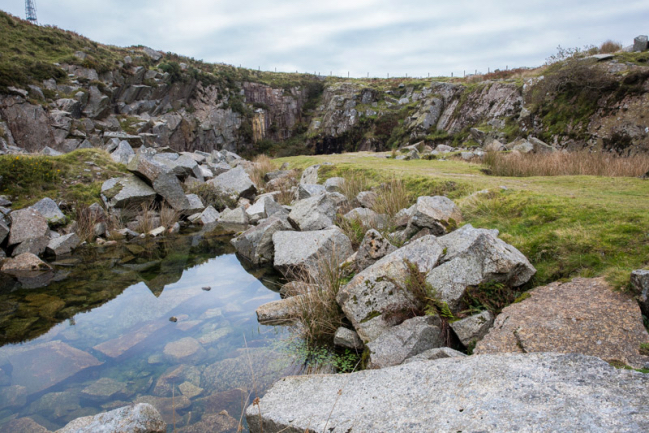 Caradon Quarry is located in a granite reserve which underlies Bodmin Moor. Geologically the granite is closely related to that of underlying Dartmoor which is further to the east. Similar granite outcrops run down the spine of Cornwall and beyond including Goss Moor, Carn Brae, Lands End and the Isles of Scilly. All of these granite areas were formed from volcanic activity originating in the Cornubian Batholith, which runs the length of Cornwall and into West Devon.
Caradon Quarry lies in the Cheesewring area of Bodmin Moor. This area was once also rich in mining for copper and the quarry lies within the Cornish Mining World Heritage Site's Caradon Mining District.