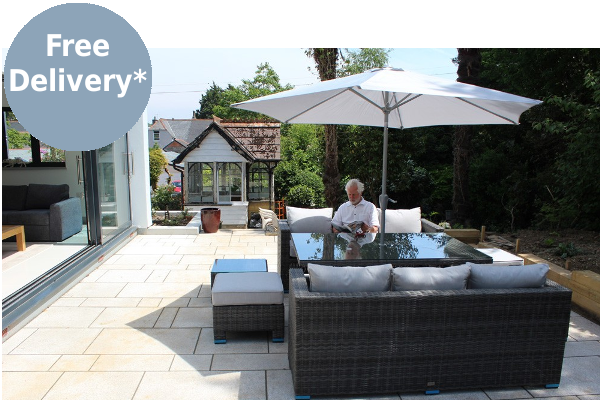 Brown granite paving

Free standard delivery
This beautiful brown granite paving is a great option for home or garden use.
It is supplied in a pack containing 15 square metres, has a brown granite colour and features a flamed finish for a non-slip surface
The thickness of the paving is 20mm thick and contains the following slab sizes:
10 @ 600 x 900mm
15 @ 600 x 600mm
15 @ 600 x 300mm
16 @ 300 x 300mm
As with all coloured granites, there are variations in the shading, which are features of its natural origins. This particular granite looks darker when wet and lighter when dry. We can provide samples to help decide on your choice of material.
Availability: In stock
£652.80
(

£544.00

excl. VAT)
Product Description
Details
Whether you're intending to use these slabs as part of a small or larger sized project, this material is an extremely good choice. These brown granite paving slabs can be used for both internal and external paving.
Dimensions
The brown granite paving slabs are calibrated. This means they are sawn to a regular thickness of 20mm so the slabs are an even thickness. Usually the granite paving slabs are installed to form joints of between 10 - 15mm. The edges are sawn square so you can achieve close butted joints if required.
Finish
After sawing the slabs have the top surface treated by a machine which provides a non-slip surface. This non slip surface treatment is known as "flaming"or "flamed finish".
The granite paving slabs should be laid with the smooth sawn side down and the roughened surface upwards so you walk on the non slip surface.
Availability
We usually have these granite paving slabs available for delivery from stock.
*Delivery
Delivery can be arranged throughout the UK. If the material is in stock it will normally be delivered within 3 working days of your order.
Our website price includes standard delivery to most of the UK.
The standard delivery method is using a lorry to delivery the paving in a wooden crate. The lorry will be equipped with a "tail lift" to offload the crate to the kerbside. The lift lowers the crate to the ground and then the driver will use a hand pumped "pallet truck" to move the crate off of the tail lift platform to leave it at the kerb side.
The lorry will not be able to offload if your delivery is required to a location that is:
Not level - The driver is not able to unload a crate if there is a slope.

Not surfaced with tarmac or concrete. The wheels of a pallet truck are small and can only be used on a completely hard surface. Gravel and unpaved or uneven surfaced are not suitable for standard delivery.

Considered inaccessible or unsafe to offload by the driver.

Prohibited from unloading or waiting.
If any of these factors apply please do not order online but contact us for further advice.
Other delivery methods (including a crane offload) are available at additional cost.
The following postcodes are not included as standard delivery:
AB10-16, AB21-25,AB30-39, AB41-56, GY, HS, IM, IV, JE, KW, PA, PH, PO31-34, TR21, ZE
If you require a special delivery method or require delivery to one of the postcodes listed above please do not order online, but contact us for a quotation.
Advice
If you require assistance at any stage, for example in choosing the right product to working or out delivery options, our helpful and knowledgeable staff will be pleased to help you.
Source
This product is sourced from a quarry in China
To request a sample please click on the picture below: